UPTECH ENGINEERING OFFERS "ULTRA" BRAND PERMANENT MAGNETIC LIFTER FROM 100KG TO 5000KG.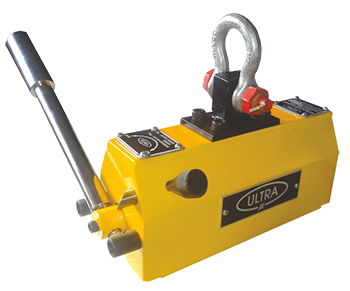 Use For Pickups & Transfer Ferrous Parts Like Blocks, Press Moulds, Round Bars Ets
Zero Electricity Required
Easy On - Off By Lever
Powerful Mdfeb Magnets Are Used
Spring-Loaded Device Lock Is Provided For Safety
Handling Of Permanent Magnetic Lifter Is Reliable, Safe, Quick Secure & Economical
All Necessary Safety Certificates Are Issued By Uptech Engineering.
Widely Use To Saving The Lifting Time.

Tested Capacity 1 : 3.5 Times
Sr. No.
Cat No.
Size (mm)
(Height is without hook)
Lifting Capacity
for flat job
Tested Capacity for Flat Job (1 : 3.5 Times)
Weight
0
UL - 80500
90L x 65W x 85H
100kg

350kg
4kg
1
UL - 80501
170L x 85W x 105H
200kg
700kg
9kg
2
UL - 80502
170L x 85W x 105H
250kg
875kg
9kg
3
UL - 80503
230L x 85W x 105H
300kg
1050kg
13kg
4
UL - 80504
260L x 85W x 105H
450kg
1575kg
14kg
5
UL - 80512
255L x 110W x 130H
500kg
1750kg
14kg
6
UL - 80505
290L x 110W x 130H
600kg
2100kg
25kg
7
UL - 80506
290L x 110W x 130H
700kg
2450kg
30kg
8
UL - 80507
350L x 130W x 135H
1000kg
3500kg
45kg
9
UL - 80508
395L x 130W x 160H
1500kg

5250kg
68kg
10
UL - 80509
460L x 170W x 185H
2000kg
7000kg
103kg
Tested Capacity 1 : 3 Times
Sr.No.
Cat No.
Size (mm)
(Height is without hook)
Lifting Capacity
for flat job
Tested Capacity for Flat Job (1 : 3 Times)
Weight
0
UL - 80500 / A
90L x 65W x 85H
100kg
300kg
4kg
1
UL - 80501 / A
170L x 85W x 105H
200kg
600kg
9kg
2
UL - 80502 / A
170L x 85W x 105H
250kg
750kg
9kg
3
UL - 80503 / A
230L x 85W x 105H
300kg
900kg
13kg
4
UL - 80504 / A
260L x 85W x 105H
450kg
1350kg
14kg
5
UL - 80512 / A
255L x 110W x 130H
500kg
1500kg
14kg
6
UL - 80505 / A
290L x 110W x 130H
600kg
1800kg
25kg
7
UL - 80506 / A
290L x 110W x 130H
700kg
2100kg
30kg
8
UL - 80507 / A
350L x 130W x 135H
1000kg
3000kg
45kg
9
UL - 80508 / A
395L x 130W x 160H
1500kg
4500kg
68kg
10
UL - 80509 / A
460L x 170W x 185H
2000kg
6000kg
103kg
11
UL - 80510 / A
555L x 270W x 270H
3000kg
9000kg
280kg
12
UL - 80511 / A
715L x 350W x 310H
5000kg
15000kg
540kg